We stain and seal dozens of outdoor floors every month. After 13 years we have stained several thousands. So, we don't freak out when concrete looks bad in process. You however, probably will freak out unless you know what's up. After reading this, you will enjoy that ride, and enjoy your finished floor even more.
Chemically staining takes the uninformed on an emotional roller coaster. You however, will now know that the green liquid labeled "Vintage Umber" will react with the concrete to create a rich reddish brown. There will be 4 more things to learn about this road to pretty concrete though:
It's not just Vintage Umber: all acid stains react with concrete to create colors unlike what they look like in the bottle.

As the chemicals create the color, an ugly salt forms on the surface.

As we rinse that off, it will look pretty. Though as it dries it will get ugly again, and it will need to dry out for several hours (maybe overnight) before sealing.

Once fully dry, the sealer will pop the color, and it will look prettier than ever.
If knowing all this, you still freak out a little that day before we plan to seal your floor do this: Wet the floor with a solvent (acetone, xylene, etc) and see what you think of the color when damp. That will even it out much like the sealer will (and like the water did when we rinsed residue) while still letting it dry. The look when damp (not fully wet, but not dry) is closer to the finished color than anything else.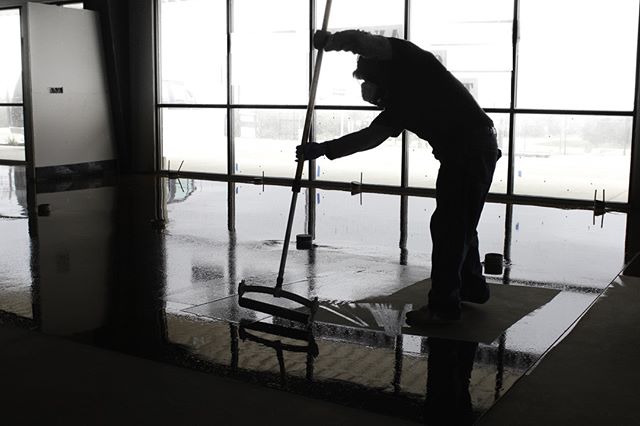 If you are interested in what is actually happening, this is the best way I can describe it. Acid stain is great in that it permanently colors concrete in deep, variegated way. In the process, it etches the concrete. This allows siloxanes (penetrating stain blocking materials) and paste waxes to penetrate and work better.
When topical sealers or coatings are used, it's even better as the sealer can penetrate and bond to the microscopically roughened surface. As the sealer or wax fills in the etched concrete, it "pops" the color. That is, the color of the concrete in the troughs of the little cuts becomes easy to see as the finish fills them in. This is why epoxies and poly-aspartic finishes have more vivid (arguably garish) colors than water based acrylics or penetrating sealers.